2020 celebrates 150 years of the Camperdown P & A Society
We're now looking forward to how we can celebrate in 2021!

The Camperdown Pastoral & Agricultural Society has made the difficult decision to cancel the Annual Show for 2020.
2020 was to be the running of the 150th Show on October 10. Given the current restrictions on gatherings and the uncertainty of when we will return to a more 'normal' life the committee feel that to properly celebrate such a significant milestone we should focus on this occurring in 2021. The last time the show was cancelled was during World War 2 for three consecutive years.


We are mindful of the health of all our exhibitors, members, sponsors and patrons and hope all understand how difficult this decision has been.
Should you have any further questions please don't hesitate to contact us.
Bendigo Bank Camperdown Show Section Information & Entry Form
Details for 2019 Show. Click button links to view pdf documents for each section.
Information for the 2021 Show will be posted when available, this information will just give you an idea of events from 2019. There are always a lot of free & low cost competitions that you can enter, stay tuned!
Please keep an eye on our Facebook page "Camperdown Showgrounds" for Show Day timetable updates.
2019 SCHEDULE SECTIONS NOW AVAILABLE! SCROLL DOWN TO VIEW.
 Thank you to all of our show sponsors, please help support them.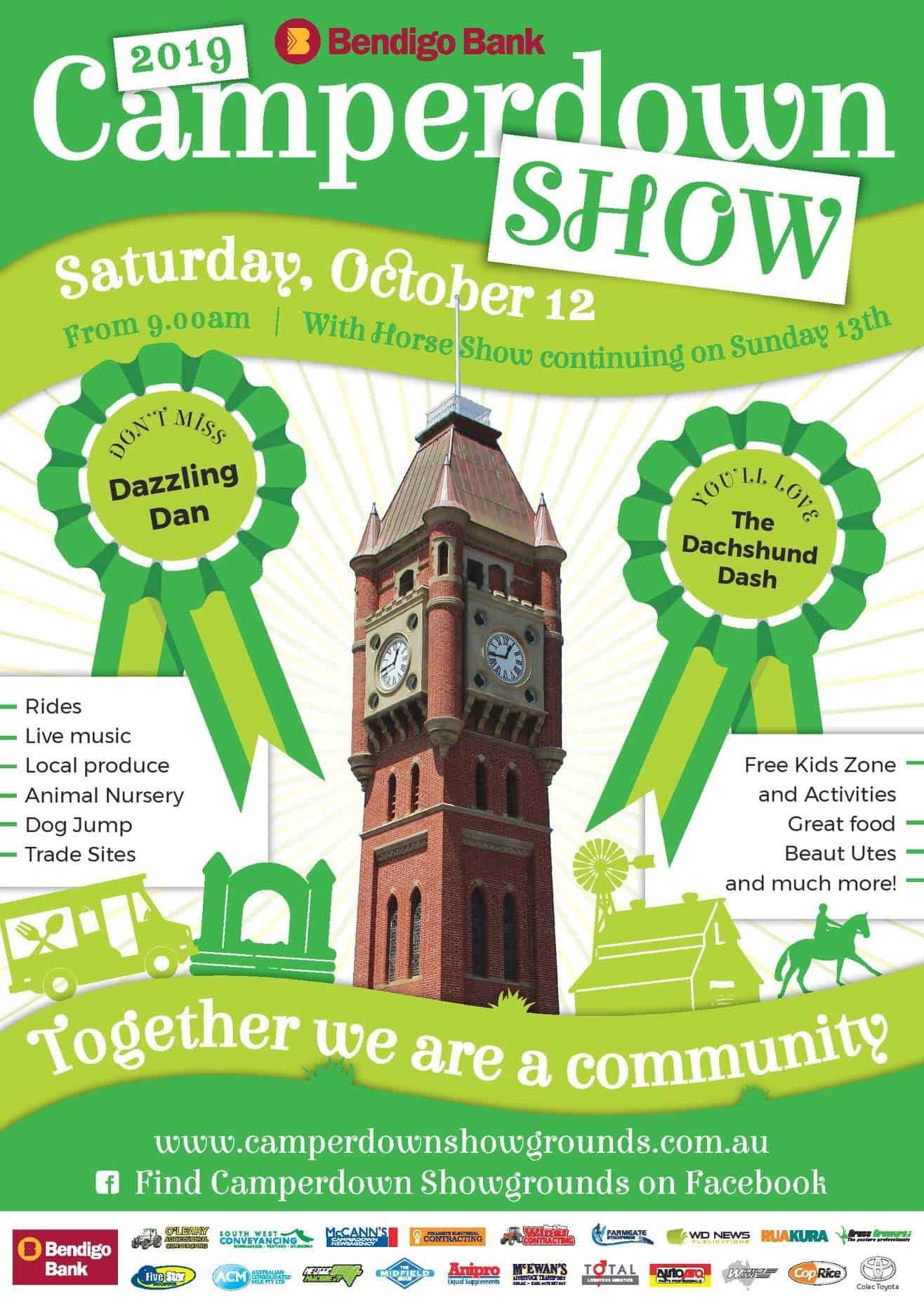 BEAUT UTE COMPETITION
Utes to be in grounds by 9am, Judging will start at 11.30am Saturday with presentations directly after. Entry via second gate at showgrounds, please be aware of pedestrians when entering.
Please entry on the day by 10.15am or via entry form in post to Camperdown P&A Society by Friday 5th October at the latest
Utes must remain stationary during display and judging.
General gate entry applies ($15 per adult, 5-17 yo $5)
Main Classes $10 each per class, Novelty classes $5 each per class,plus FREE ENTRY for all utes into 'BEST UTE IN SHOW' & Encouragement Classes
See Facebook event for updates- 'Camperdown Show Ute Competition 2018'
Classes Category and Name will be:
MAIN CLASSES
BU1  Best Local Ute (within 20kms)

BU2  Best Street Ute

BU3  Best Town & Country Ute

BU4  Best 4×4 Ute

BU5  Best Chicks Ute

BU6  Best BnS Ute (Pre 1990)

BU7  Best BnS Ute ( 1990 onwards)

BU8  Best Classic Ute (pre 1990)

BU9  Most Feral Ute

BU10  Best Themed Ute
NOVELTY CLASSES
BU11 Best Bullbar
BU12 Best Light Show
BU13 Best Under The Bonnet
BU14 Best Flag Setup
BU15 Best Stickers
BU16 Dirtiest Ute
BU17 Furthiest Travelled Ute
BU18 Ute Most Like It's Owner
BEST IN SHOW
GUESS THE WEIGHT???
Can you be the one to guess the right weight of a Sheep and/or a Cow??
Look out for the Guess the Weight competitions just inside the main gate on show day.
KIDS TREASURE HUNT SHOWBAG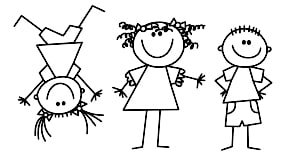 You're invited to an exciting treasure hunt for the kids at the Camperdown Show, with lots of awesome bits and pieces to find!
For just $5 per child/showbag, kids receive their bag (with some goodies already inside) and follow the provided map to see what else they can find hidden around the showgrounds. These items include stickers, water bottles, lollies, craft sheets, magazines and more 🙂
SHOW PERSONALITY
Judging will be Show Day on the Main Stage.
Please nominate entry on the day at the Main Office by 10am, or by entry form in post to Camperdown P&A Society.
Sashes and/or Vouchers/Prizes to all Winners ~ Free Entry
Class Category will be:
SP1  Baby of the Day

SP2  Master Tiny Tot (1-3 years old)

SP3  Miss Tiny Tot (1-3 years old)

SP4  Master Junior Show Boy (4-6 years old)

SP5  Miss Junior Show Girl (4-6 years old)

SP6  Master Show Boy (7-12 years old)

SP7  Miss Show Girl (7-12 years old)

SP8  Miss Teenager (13-17 years old)
PET PARADE
Entry will be on the day.
$2 entry fee per animal, pay at the main office, and a ticket will be supplied for entry of class.

Classes are
– Cuddliest Pet
– Scruffiest Pet
– Hairiest Pet
– Best Groomed Pet
– Most Unusual Pet
– Best Trick
– Best Dressed Pet
– Pet with The Wiggliest Tail – Best Behaved Pet
– CHAMPION PET IN SHOW
DACHSHUND DASH
Location: to follow the Dog Jump near Cattle Judging area. Time: Approx. 1.30pm Saturday – Entry ~ $2 entry fee per dog, pay at the main office, and a ticket will be supplied for entry of class.

Class 1. Class 2. Class 3.
50 metre dash
100 metre dash
Best Dressed Dachshund
DOG JUMP COMPETITION
To be run under VAS rules.
The winner of each class is eligible to compete at the Ballarat Show.
Location: Near Cattle judging area. Time: Approx. 1pm Saturday
Entry ~ $2 entry fee per dog, pay at main office, and a ticket will be supplied for entry of class.
Class 1. Class 2. Class 3.
Dog Under 50cm tall Dog 50 to 60cm tall Dog Over 60cm tall
Prizes & Rosettes will be awarded to the winners.
Sponsored by Roberts Farm Supplies, Nullawarre & Warrnambool